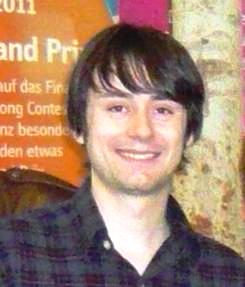 Exchange student at Kanazawa University for one year.

| | |
| --- | --- |
| | Nanao Castle History Museum (七尾城史資料館) |
| | | | |
| --- | --- | --- | --- |
| | CATEGORIES: | Trip,Sight-seeing,Culture,History | 2011/11/13 20:33 |
Not many foreigners know that in Nanao, the biggest city of the Noto Peninsula, was a castle long ago. Built at the beginning of the 14th century by Hatakeyama Mitsuyoshi and destroyed as early as 200 years later in 1616 because of the "one land one castle" commandment of the Tokugawa shogunate (only one castle per region was permitted in order to avoid civil wars and rebel activities against the shogunate).
The Nanao Castle History Museum does not only describe the history of the Nanao castle with large illustrations and timetables; you can also see many goods from the Sengoku era (1477-1573). For example the weapons of the castle rulers, like swords with adorned sheaths are exposed. Archaeological finds from the common people's everyday life are shown as well. Quite interesting objects are the coins from China, which are proof of the trading activities between China and today's Ishikawa during the middle ages. In addition to that, part of the museum's exhibits consist of ceramic artefacts from China and Korea.
Although the Nanao Castle History Museum is rather small, it offers many impressive historical objects and explains the history of the Nanao castle. I recommend the visitor of the museum to do a trip to the castle ruins located on a hill nearby, about one and a half hours by walking or ten minutes by car.

| | | | | |
| --- | --- | --- | --- | --- |
| | | | | |